Nationally renowned artist David Buckley Borden will be unveiling a new piece of public art at the site of Universal Plaza in downtown Tigard next week.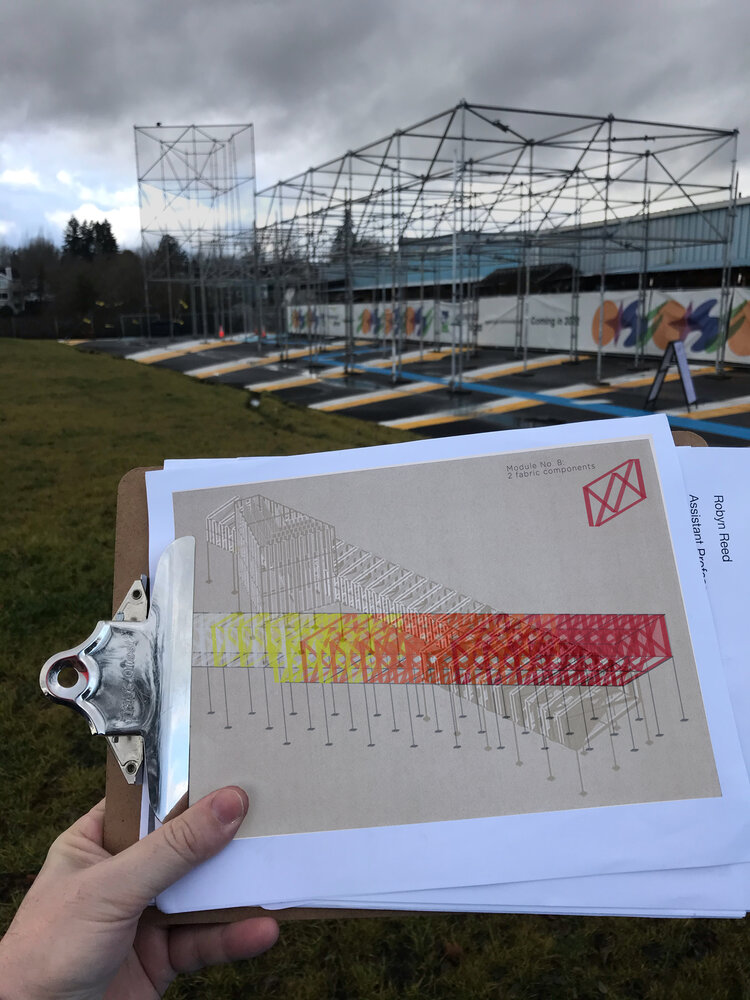 Called "Universal Beacon," the artwork will be open for public interaction around February 20th at 9100 SW Burnham St where designs are being drawn up for a large plaza scheduled to open in 2022.  The piece is a vast scaffolding structure wrapped with vibrant, woven fabric pieces that run along the length of the west side of the plaza site. A tower with an abstract flame made of fabric strips will rise from the structure.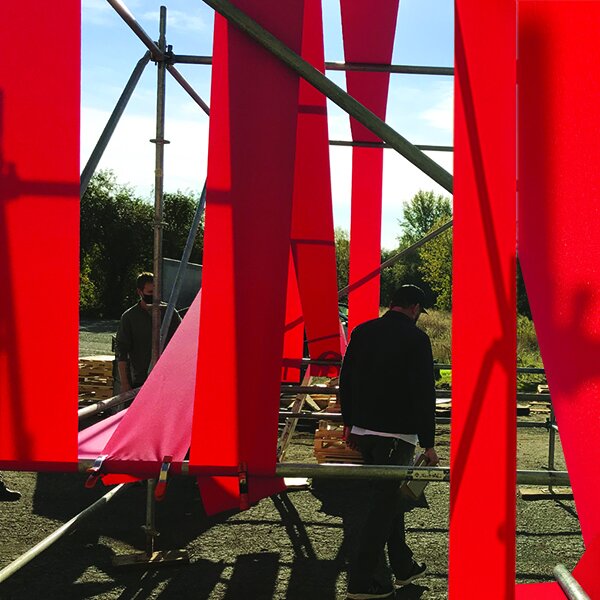 "Understanding the community's pent-up desire for activity on the site, and remaining sensitive to social-distancing needs, the installation is designed to be experienced from afar and within," said artist David Buckley Borden, "Guests are encouraged to walk in and around the installation and explore the play of light, shadow and color that the installation facilitates both day and night. In essence, the public artwork is about experimentation and play in a way that is universally understandable, and accessible to community members of all backgrounds."
Buckley Borden is currently a visiting professor within the Landscape Architecture Department at the College of Design's School of Architecture and Environment at the University of Oregon. Prior to arriving in Eugene, David studied landscape architecture at Harvard University's Graduate School of Design and worked as a designer at Sasaki Associates.  His independent practice is focused on the intersection of landscape, creativity, and cultural events.
The City of Tigard expects Universal Plaza to be a place for everyone – "a community gathering spot in the heart of downtown Tigard that celebrates our shared humanity and our one shared planet." Art is already on the site, made by artists both within and beyond the Tigard community.  The site of the future plaza is open for the community to interact with while remaining socially distant, to enjoy the temporary art installations.
Universal Beacon will be the sixth art installation specially curated for Universal Plaza.  Other pieces are:         
Ground Mural by Tualatin Valley artist Raziah Roushan converted 34,000 square feet of pavement into a radiant exploration of all four corners of the site for guests to enjoy. Designed by RiOS, the designer of the future plaza, this mural serves as an invitation to visitors to follow their own paths, make up games, and imagine the future of Universal Plaza.
Playful Apple Box Benches by Asami Mortia are moveable pieces that encourage visitors to place the seats in locations throughout the plaza where they can enjoy the plaza while remaining safe and socially distant. The benches are inspired by the wooden boxes used by event and film crews to stack and prop up various pieces of equipment.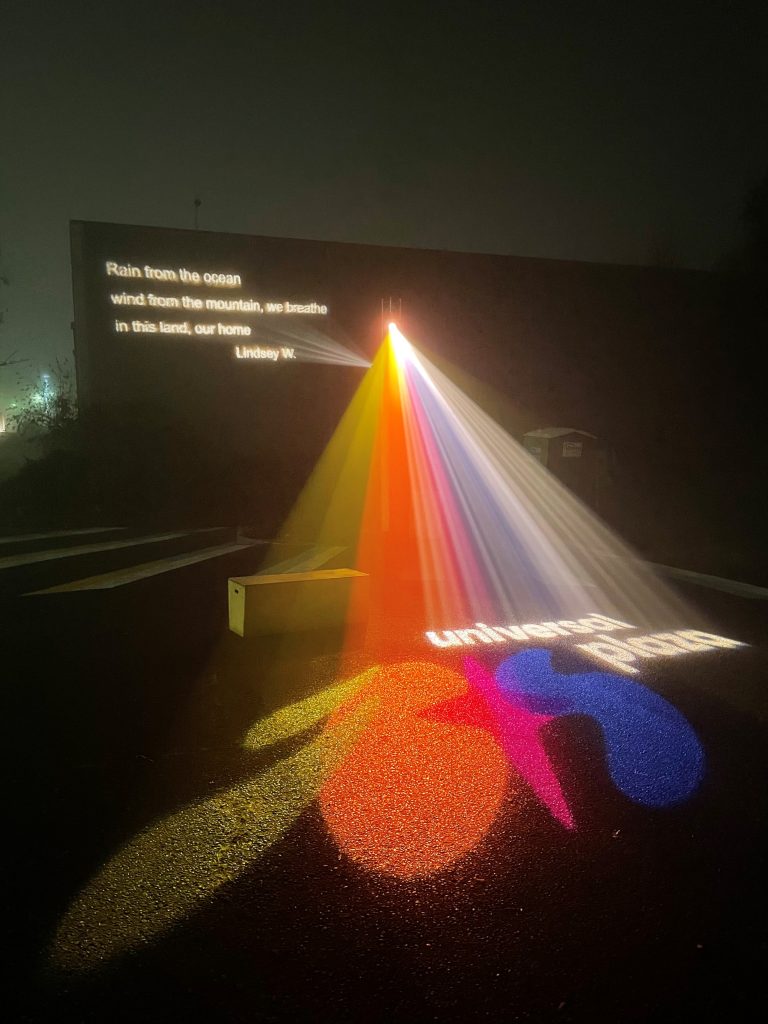 Community Haiku is a community-generated poetry installation featuring the words and sentiments of Tigard residents. Projected in lights onto the adjacent building, the poems are reflections on lived experiences during the pandemic. Updated bi-monthly, the projections are live from 4-10pm nightly.
Musical Bench by Jill Torerson is an installation that engages visitors by encouraging them to make their own music or take a seat. A part of the Musical Benches Public Art Collection, this piece is one of four benches included in a regional public art commission made possible by Tualatin Valley Creates. The bench will permanently reside on Main Street after the Universal Plaza temporary installations are removed.
The Camus Bulb by City Repair Project and PSU's Center for Public Interest Design students anticipates a time when we will once again gather together. This site now holds three hundred and sixty-five Camas Lily bulbs, which will erupt this spring to fill the plaza with the blue hues native to the Willamette Valley, the land of the Atfalati-Kalapuya people. At bloom, the lilies will be transplanted from the site and replanted along Fanno Creek, where each spring their flowers will remind us of this plaza's enduring contribution to our health and sense of place.
About the artist: David Buckley Borden is an interdisciplinary artist and designer. Using an accessible, often humorous, combination of art and design, David promotes a shared environmental awareness and heightened cultural value of ecology. David's place-based projects highlight both pressing environmental issues and everyday phenomena. Informed by research and community engagement, David's work manifests in a variety of forms, ranging from site-specific public art installations in the woods to data-driven cartography in the gallery. www.davidbuckleyborden.com/#/tigard-universal-beacon
About the project: Universal Plaza is funded through City Center Urban Renewal. New businesses, restored and improved storefronts, new sidewalks with trees and landscaping, and a public plaza, are just a few of the amenities that invite people downtown. Urban renewal has played a pivotal role in downtown Tigard's transformation by giving our community the resources needed to create a thriving city center.
Learn more at: www.engage.tigard-or.gov/universalplaza and www.tigard-or.gov/urbanrenewal
Engage online with #universalplazatigard