Saturday Sep 7th | 11:00 am – 8:00 pm | Main Street Downtown Tigard  
between Railroad Crossing and Thai Delicious on Main Street & Tigard Street to 99W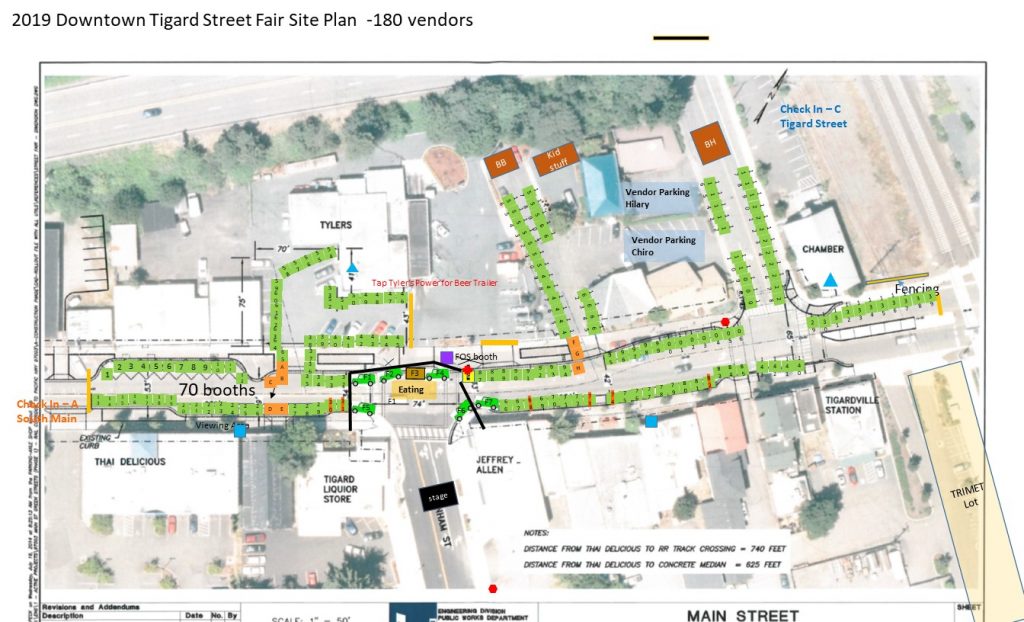 ---
Free Admission, Family Friendly
Explore Downtown Tigard Street Fair and Latino Festival Vendors from 11 AM to 6 PM
Musical Entertainment 11 AM to 8 PM
Join us for Downtown Tigard's largest event! Over 180 local businesses, nonprofits and organizations will take to the streets at the 8th Annual Tigard Street Fair. This day of fun is for the whole family featuring a bounce house for the kids, a beer & wine garden for the adults, featuring food trucks and live entertainment throughout the day.
Stay for the after-party, fiesta style, as the Latino Festival kicks it into high gear with local sensation Pa'lante.
General Information:
At Main St. in Downtown Tigard
Vendors from 11am-6pm
Latino Entertainment and Food Carts until 8pm
FREE ADMISSION
---
Getting Here & Parking
Drive:
99W going West
Turn left onto North Main, Street will be closed after Commercial, Park on North Main, Commercial or follow detours to other parking.  See map below.
or
Turn left onto Hall, then right onto Burnham, park in signed parking on Burnham or as indicated on map.
99W going East, turn right instead of left onto either North Main or Hall
TriMet
Bus: Take any bus line that makes a stop at the Tigard Transit Center which is located on commercial.  Fair Zone is a little over a block south of the Transit Center on Main Street.
Uber/ Lyft
Close parking is limited. We highly recommend visitors consider taking Uber/ Lyft to get to the Street Fair.
Parking
On street parking.
North Main, Commercial, Burnham, South Main before Thai Delicious
Please be respectful of driveways, handicap zones, business customer parking, other no parking zones. Parking enforcement will be out.
Lot Parking
Trimet/WES Lot, Burnham Public Lot,  Tigard Vision – Front and Back lots, Public Works Lot on Burnham.  Please be respectful of other businesses parking lots around the fair zone as they will have customers that day. ADA parking is available in the Burnham Public Lot and Trimet/WES Lot
Bike Parking
Use any of the 10 colorful bike shaped bike racks positioned up and down Main Street on both sides of the street to lock up your bike! Bike parking also at WES parking lot.
Street Closure Info
South Main Street closed from Railroad to  Thai Delicious.  Tigard Street closed  to Grant Street
Street Closure begins at 6 a.m., and is lifted at 10 p.m.   Public Lot behind Tigard Chamber/Symposium will be under construction and not available.
TriMet
Bus stops on main temporarily relocated that day off Main.  Check stop a few days in advance for relocation information
Other FAQ
Main Stage Schedule
11 AM to 12 PM – Laymans Terms
12:30 to 1:30 PM – Stack Wagon Band
2 to 3 PM – Cody Weathers
Latino Festival Main Stage Schedule
3 to 3:30 PM – Hot Salsa & Timba
3:30 to 4:30 PM – Tequila Highway
4:30 to 5:45 PM – Hot Salsa & Timba Dance Class
5:45 to 6:30 PM – MexicaTiahui Aztec Dance Group
6:30 to 8 PM – Pa'lante Pdx
Dogs: Use your best judgment if you want to bring your dog.  We anticipate it will be crowded and noisy so plan accordingly with your dog. It could also be warm.   If you bring your dog, they must be leashed and under control.
Kids: We are very family friendly. Visit the Family Fun Zone on Electric Street, Sponsored by Mortgage Cafe NW, Bounce House on Tigard Street, Table Tennis demos and play at the intersection of Main and Tigard.
Smoking: The fair is a public space, so all applicable smoking laws apply. Please be respectful.
ATM's: US Bank at corner of Scoffins and Main, ATM in Food Court near Main & Burnham.
First Aid: Located at the CERT Booth corner of Main and Tigard in Front of car wash.
Lost & Found: Located at the CERT Booth
Restrooms: Tylers and Porta Potty bank in the Burnham Public Lot.
Volunteers: We love you! Please check in at the Tigard Downtown Alliance booth on Tigard Street next to Symposium Coffee. They are the second booth on the right off of Main Street.
Vendors: Please see our vendor info page.