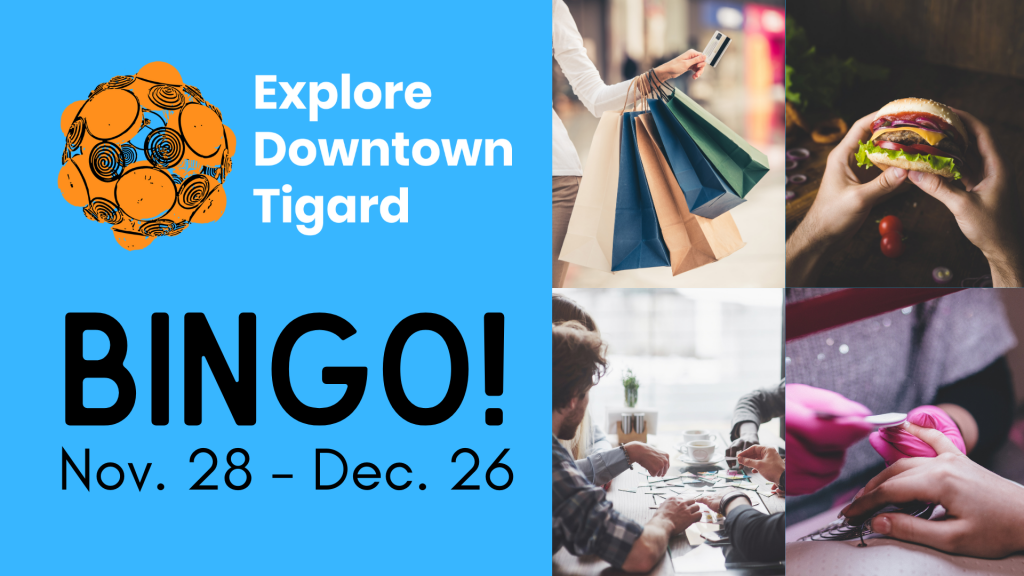 Starting November 28 (Small Business Saturday), pick up or download your Explore Downtown Tigard Bingo card! You have until December 26 to complete and turn in your Bingo card for a chance to win. 
How it works: 
Each square is connected to a business. Complete the activity listed in the square at the connected business. Once completed, get your Bingo card validated at the business. The goal is to complete the activities to create as many traditional bingos as possible. You could go all the way with a full blackout bingo!
How to win:
For each traditional Bingo you complete, you get 1 entry into the drawing. If you go for a blackout, you will get an additional 3 entries on top of the 12 completed bingos (total: 15 entries). 
Prizes: 
$10 – $15 gift cards from participating businesses!
Grand Prize: $100 Visa Card
Participating Businesses: 
| | | |
| --- | --- | --- |
| Bailey's Burgers | Beach Hut Deli | Center Street Gold & Silver |
| Cooper Mountain Ale Works | Curiosities – Vintage Mall | Good Cake Bakery |
| Kiss Car Wash | La Fuente Tigard | Main Street Stamp & Stationery |
| Mi Home Nest | Musi's On Main  | Senet Game Bar |
| Sherrie's Jewelry Box | Studio 7 | Symposium Coffee |
| Tigard Auto Detail | Versus Board Games | Westwoods Beauty Spa |