Downtown Tigard is a lively blend of modern city amenities with the friendliness and community spirit of a small town.
Imagine a walkable village with ample opportunity for all ages to live, work, shop and play.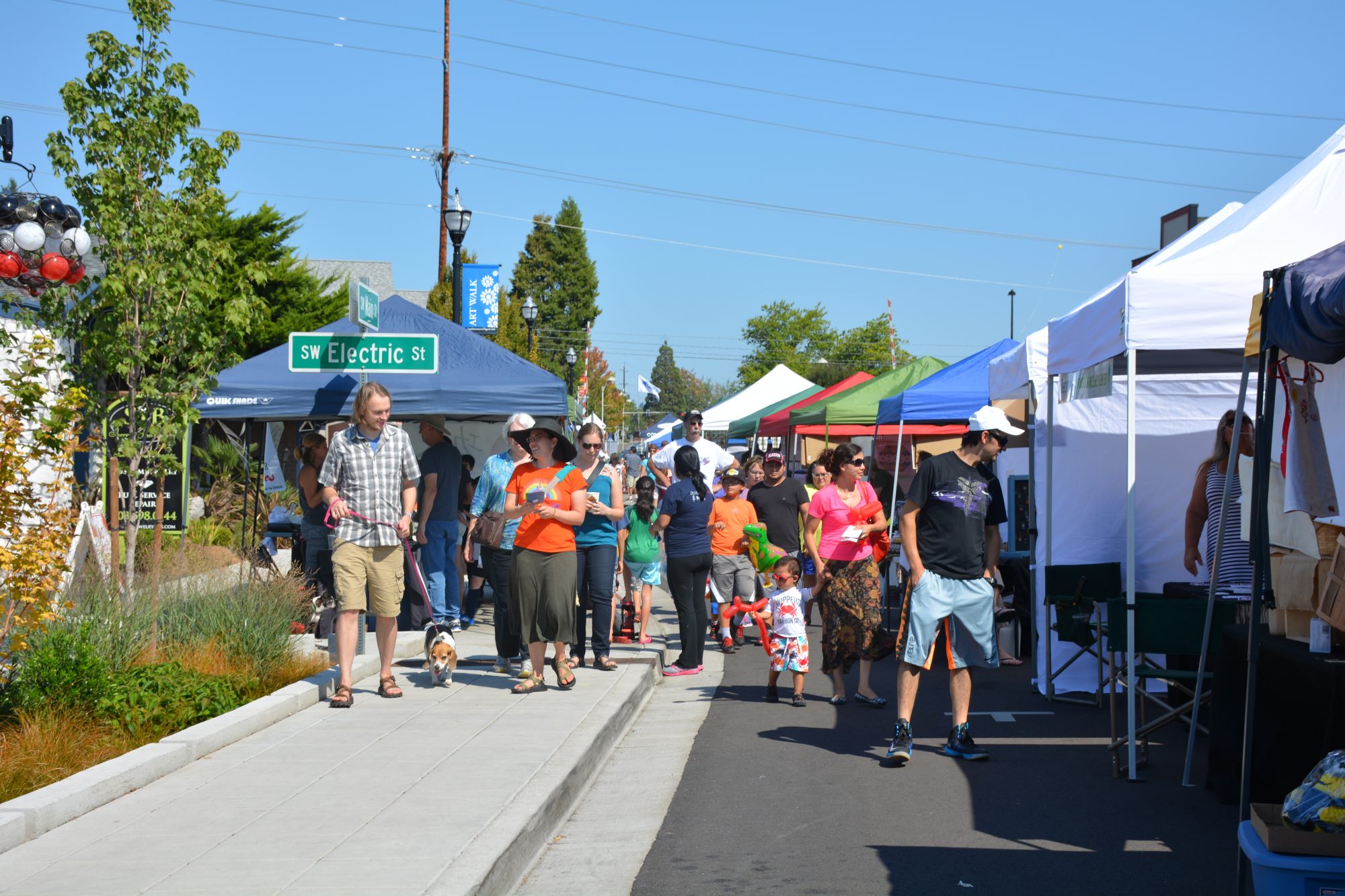 Downtown Tigard offers an international blend of restaurants, world class paddle tennis play and instruction, fine whiskeys, specialty beers, martial arts and self-defense instruction, specialty jewelry, designer consignment clothing, scuba gear and instruction, fresh and salt water fishing gear, stationery, car repair, banking, dry cleaning and the seasonal Tigard Farmers Market. The Ash Street Dog Park is also conveniently located right off the Fanno Creek Trail.
Transformation Take a walk down Tigard's Main Street and it may be difficult to remember how it looked just a few years ago. Today, wide sidewalks are flanked with bike racks and benches where one can sit and relax between excursions. New landscaping, LED streetlights and unique public artwork are just a few of the modern amenities that invite people downtown to shop, dine, walk the dog, take care of business or meet up with family and friends. The transformation didn't happen overnight and it didn't happen on its own. The City of Tigard has an urban renewal agency—the City Center Development Agency (CCDA)—which is governed by the Board of the CCDA (City Council) and advised by the City Center Advisory Commission. The CCDA partnered with the Tigard Downtown Alliance (TDA), the Tigard Area Chamber of Commerce (TACC) and other agencies to revitalize this 193-acre area located just east of Pacific Highway between Hall Boulevard and Main Street. This group of business owners, property owners and other stakeholders worked to leverage private and public resources to revitalize downtown, creating a mixed-use destination spot that is very walkable. The walkable element is no accident. Across the country, people are embracing the benefits of living in a walkable community. Tigard has met this challenge with a vision to become the most walkable city in the Pacific Northwest. While the transformation of Tigard's downtown remains a work in progress, we want to share what's been accomplished to date, what's coming next and invite you to rediscover downtown. Take a virtual walk with us through the next few pages that include programs available, places to go and things to do downtown.
---
What's new?
MAIN AND BURNHAM STREETS
Tigard's Main Street Green Street project rebuilt the southern half of Main Street, from Pacific Highway/99W to the railroad crossing near Commercial Street. Funded in part with a $2.54 million Metro grant, the project provided safer pedestrian crossings, green streetscape planters that help remove pollutants from stormwater, new sidewalks, streetlights, benches and bike racks. A complete rebuild of adjoining Burnham Street was completed in 2011.
BANNERS, BIKE RACKS, BENCHES AND MORE
In 2015, the TDA also installed streetscape features along Main Street to enhance the visitor experience:
20 Hanging glass baskets made by a downtown entrepreneur
10 Decorative bike racks
9 Benches
2 Bike tuneup stations including air pumps and repair tools
20 Banners promoting downtown community events and attractions
PUBLIC ART
During summer of 2015, two 16-foot steel flowers designed by artist Brian Borrello were installed at either end of Main Street where it intersects with Pacific Highway.
These eye-catching sculptures were selected by the public art subcommittee of Tigard's City Center Advisory Commission (CCAC) to signal passing motorists that a unique Main Street is waiting just around the corner.
The TDA is bringing more art to the street. One sculpture — Mobius — created by sculptor Ben Dye, is currently on display at the Main Street entrance to the Tigard Street Trail. A second piece of art — Perch — will be installed by the end of summer. And there will be more—the TDA will continue raising funds for more public art in downtown Tigard.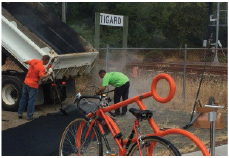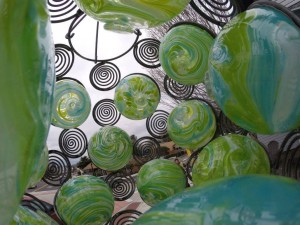 Things to do
DOWNTOWN ART WALK
Held in the spring on Main Street, commerce and culture converge in downtown Tigard during this annual event. Produced by the TDA, the art walk invites artists working in a range of styles and mediums into downtown Tigard to showcase their talents.

Creatives from around the region join with local art students and display their work inside participating downtown businesses. Community members are invited to view and cast a vote for their favorites.

DOWNTOWN TIGARD STREET FAIR
Held on the 2nd Saturday in September on Main Street Downtown merchants, sponsors, vendors, residents and visitors come together for an end of summer celebration that includes musical performances, fresh food, arts and crafts, activities for all ages and much more.
Check out www.ExploreDowntownTigard.com for the latest on other seasonal events.
TIGARD FARMERS MARKET
Sundays, 9 a.m.–1:30 p.m. May through October corner of Burnham Street and Main Street. With about seven farms and more than 40 vendors, the Tigard Farmers Market brings fresh local products to the Tigard community. You'll enjoy entertainment, delicious food, children activities and more. Visit www.tigardfarmersmarket.org for a vendor list and to see what's in season at the market.
FANNO CREEK TRAIL
This regional trail extends 15 miles from Tualatin to Portland. Passing through Tigard, Beaverton and Washington County, the trail is a paved, multi-use pathway for walkers, runners, bicyclists and nature enthusiasts of all ages. Clean Water Services, in partnership with the City of Tigard, is planning to restore the stream just south of downtown. This will improve water quality and slow erosion and incision on the creek bed. The project will also replace the Ash Avenue Pedestrian Bridge and improve a segment of the trail.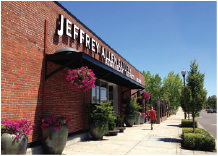 [/one_third]
Partnerships and programs
MAIN STREET STROLLING STREET
Tigard's Main Street Strolling Street Program is improving Main Street's curb appeal. This Urban Renewal Agency program offers landscape architecture design assistance and matching funds to improve privately owned landscaped areas between the sidewalk and building façades.
FAÇADE IMPROVEMENT PROGRAM
The urban renewal agency's Façade Improvement Program (currently on hold) provided matching grants for over 20 projects to improve downtown storefronts. The program leveraged four dollars in private investment for every dollar of matching urban renewal funds. These projects have helped Main Street become a more vibrant and walkable commercial district.
TARGETED IMPROVEMENT PROGRAM
Tigard's Targeted Improvement Program (currently on hold) helps entrepreneurs and property owners who are ready to reinvest in their downtown buildings. In 2014, urban renewal funding provided matching grants for tenant improvements to help attract two catalytic businesses into Downtown Tigard— Symposium Coffee and Jeffery Allen Gallery.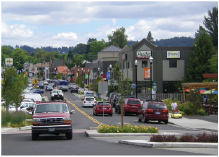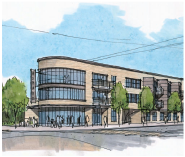 Coming soon
MORE ON MAIN STREET
Further improvements to the northern end of Main Street are planned in order to bring new street lighting, sidewalks and bio swales the full length of Main Street. Getting around downtown
TIGARD TRANSIT CENTER
8960 SW Commerical St.
The transit center connects downtown Tigard to the region with seven TriMet bus lines, Westside Express Service (WES) commuter rail and Yamhill County Transit Area bus service. The adjacent Park & Ride lot has 100 car spaces as well as bike lockers and racks. WES is a commuter rail line serving Beaverton, Tigard, Tualatin and Wilsonville. WES runs every 30 minutes, Monday through Friday, during the morning and afternoon commute.
FANNO CREEK TRAIL
Enter this scenic trail from one of several downtown trailheads and follow the convenient wayfinding signs—you'll be on your way to the library, a dog park, and a lot more.
TIGARD STREET TRAIL
Formerly a rail line, this three-quarter-mile trail connects downtown Tigard to Tiedeman Avenue. The city recently paved a temporary trail for biking, walking and rolling. A concept for the permanent Tigard Street Heritage Trail is in the works. It will place lighting, art, plazas and other amenities along the trail.